Kawagoe sweet potatoes

Kawagoe imo (sweet potatoes)
Kawagoe is renowned for its delicious sweet potatoes, which Japanese enjoy digging up and eating in various dishes and confections.
Sweet potatoes became popular in Japan during the Edo era when the term "Kawagoe imo" was coined in reference to sweet potatoes grown in the Kawagoe Domain and adjoining villages (where they had been cultivated since 1751). Until the 1960s, Kawagoe was one of Japan's major producers of sweet potatoes.
At Kawagoe Myozenji Temple, a special service is held every October 13 to thank the local sweet potato deity (Sweet Potato Jizo) for another year of healthy harvests.
Baked sweet potatoes in old Edo (Tokyo)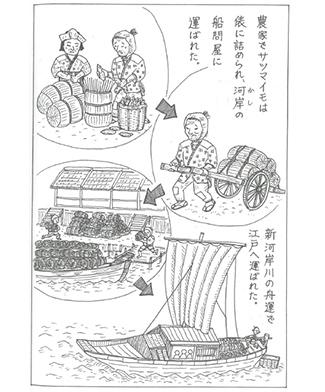 Kawagoe has been associated with sweet potatoes since the late 18th century when yaki-imo (baked sweet potatoes) were booming in old Edo because they were among the only sweet foods available at affordable prices.
At the time, sweet potatoes from Kawagoe were especially popular because people considered them "authentic". Since Kawagoe was only about 30 kilometers away from old Edo, fresh sweet potatoes could be swiftly transported in bulk down the Shingashi River.
A better way to cultivate sweet potatoes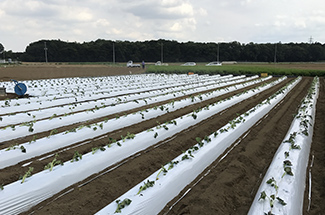 The main methods of sweet potato cultivation used today were largely established in Kawagoe by Nihee Akazawa. He began researching how best to select seed potatoes, apply fertilizer and form ridges in 1866, then generously shared his methods of sweet potato cultivation with others, and wrote a book about it in 1910 when he was 73 years old.
Kawagoe sweet potato digging tourism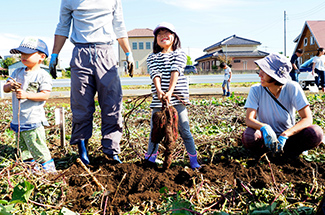 Sweet potato digging tourism began in Kawagoe before World War II. Decades later, in 1963, ten farmers established a local sweet potato digging tourism union that strengthened members' collaboration, conducted research on tasty sweet potato production, and provided public restrooms and rest areas for visitors.
Kawagoe sweet potato digging tourism reached its peak in the 1970s when 200,000 or so tourists visited the area annually. Currently, the number of visitors is around 40,000 every year and most local sweet potato cultivation is carried out by farmers who are members of the Kawagoe Imo Research Association.
Sweet Potato Mini Museum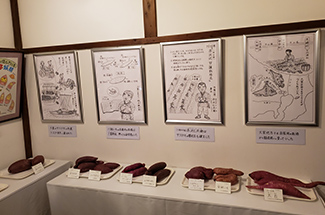 Sweet Potato Mini Museum opened on December 1, 2019 in Kawagoe City's old storehouse district as a base for spreading information on sweet potatoes. The museum clearly presents the history and culture of Kawagoe imo, as well as the culture of yaki-imo and the varieties, nutrition and use of all sweet potatoes in easy-to-understand, manga-style illustrations.